Basic Sewing and the Sewing Machine
Basic Sewing and Resources for Beginner Sewing. Where to Get a Beginner Sewing Machine and Learn to Sew.
So you're interested in sewing baby clothes? Here's where to begin. By getting yourself a good sewing machine, and learning the basics to using it.

If you are new to sewing then sewing baby clothes is a good way to start. There are many very simple and basic patterns and projects to start with. These are great for beginners. Not to mention that the clothes are smaller which makes them easier to work with. Hopefully you have a baby on hand to help with the measurements and fitting :-)

The first time I ever came face to face with a sewing machine I knew nothing. I had no idea whatsoever what I was doing. I had my mom show me how to thread it and off I went. From there I pretty much taught myself. For most of my projects I barely even used a pattern. I still seldom use one. And sometimes I simply make my own. I will share how I do this from time to time throughout this website.


But my point in telling you this is so those of you who are new to sewing will know that it is completely OK to just simply wing it. Have fun with it! It does not always need to be an exact science. And it doesn't need to be as complicated as it can sometimes seem. All you need is a machine to start with and you can begin exactly the same way I did. At worst you might waste a little thread, as for the fabric; just pull the thread out and start over. At best you will learn something new and make some cool stuff. And when you do accomplish making your first garment or end up sewing baby clothes or something, it will feel great.

Well to start you need a sewing machine. That I can somewhat help you with, as far as learning the basic sewing a lot of sewing machines come with a manual that explains all of this, and if you need more I can point you in the right direction.

The Frugal Guide to Obtaining a Beginner Sewing Machine

You do not need to spend a lot of money on your first sewing machine. All you need is a simple machine to get started with. And you do have some options ranging from relatively cheap to free.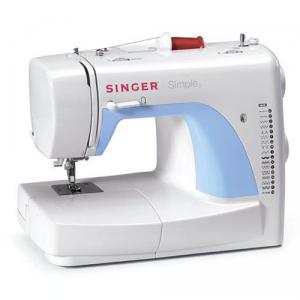 *Buy a beginner sewing machine. To begin sewing all you really need is a very simple uncomplicated machine. A couple of straight stitches, maybe a zig zag stitch. While you are learning, and while sewing a massive variety of simple projects just like baby clothes, all that is required is the basics. So ignore the bells and whistles and go for a machine that is low in price but made by a company you trust.

*Purchase a used or refurbished machine. My grandmother bought me my very first sewing machine.She bought a refurbished Singer machine from a local sewing shop.
You probably will not find refurbished machines sold at larger chain stores but many independently run sewing stores will carry used and refurbished machines. These are perfect for your basic sewing projects and inexpensive to boot.
Another great way to find a used sewing machine is to check Craigslist in the arts and crafts for sale category.

* Get a sewing machine for free. If you are very lucky or very patient you can get a sewing machine for free. I have seen many ads for free sewing machines in the free stuff section of Craigslist. Check there often or every day. Another good idea is to post an ad in the "wanted" section that you are looking for a sewing machine.
Another great way to find one for free is to sign up with freecycle.org. Freecycle is kind of a trading community. You can post an ad when you have stuff to get rid of and post "wanted" ads as well. When you join you are actually joining a yahoo group and need to be accepted into the group. The ads will come straight to your email. Freecycle is great though, as the overall goal is to help keep landfills clean by not simply throwing everything out. When you join the etiquette is that you post an offer of something you need to get rid of before you post any wanted ads. But everybody has some kind of junk piling up to get rid of. And you know what they say, "one man's trash is another man's treasure". Hopefully someone's trash is a sewing machine!

Learning to Sew, beginners sewing, and Basic Sewing Resources



---